---
Notes


Note 1: No one is sure who John's father is. Sandy Onbey: "Bob Gaebler's book on John Adams and Elizabeth Nailor of Charles County Maryland tells us that John's father was once thought to be "a descendant of the Littleton family of England." However, this from Bob Gaebler suggests that is not the case: "...regarding the origin of John Adams in England... I did in fact find a lot, and even stood at the grave of the fabled "Catherine Littleton" in the grave yard of the chapel at Hagley Hall, the ancestral home of the Littletons. I also spent a whole day with the Littleton Family historian pouring through old records at Hagley Hall looking for an Adams connection. I found none, and maybe that is what Sandy meant. But the fact that I found none when it should have been there, and all the other information I found, overwhelmingly suggests that the Littleton connection is untrue."

NEW INFORMATION -- 28 January, 2019. Kent Kuddes of Plano, TX has done some research. Apparently, one John I. Adams of Maryland married Catherine Littleton, daughter of Sir Thomas Littleton, 2nd Baronet of Stoke St. Milborough I believe I shall henceforth require folks to refer to me as 'yer 'oliness.'

ALSO -- Our second son, Andrew, has also done some research: "I stopped at Thomas Adams (born 1304!) and his wife, Jane Inge (born 1312)." More to come...

Note 2 : a). I have the Sierra Generations family tree software, which includes historical immigration data on cd. It shows an Elizabeth Nailor who immigrated in 1744. Immigration also lists two people named Elizabeth Naylor in 1700; one at age 18 and one at age 26. Perhaps ours was mis-spelled Naylor.
b). cousin Bettye Marmor Holloway's DAR application uses the Nailor spelling. There is a handwritten notation that says: quote - - " I. John Adams m. Elizabeth Nailor d. 1741 in Charles Co. Md. 3rd John Adams came from England about 1700 " - - end quote

Note 3: Revolutionary War soldier Reference

Note 4: There is no reason to believe that the Adams are related to the Littletons. Yet, the name appears here.

Note 5: Md. Reference

Note 6: Va. Reference

Note 7: Aunt Gypsy said he "Came To Lewis Co Ky in an ox cart."

Note 8: m. 13 Oct 1840. Aunt Gypsy said Ed was "a drunk."
Aunt Gypsy was tiny, with black hair and fair complexion. At age ninety-five, she could still shoot a chipmunk off her fence with her .22 rifle. She outlived three or four husbands.


Note 9: One was killed; Gypsy was characteristically blunt, and by modern standards offensive, so I will paraphrase her remark; 'this person was allegedly killed by person(s) of African-American descent.'

Note 10: Gypsy told me, "He drowned following an argument with grandma" (likely Grandma Clarke).

Note 11: Gypsy told me, "Grandma Clarke was "mean-tempered and liked her demijohn, but she was admired."

Note 12: George was "born after 1724, as he was not yet 16 years of age when father wrote will in 1740." Source: a handwritten notation on Bettye's DAR application.
Note 13: Fenton Thomas Adams, MD, Latonia, Kentucky
This is the notorious, and beloved in his community, 'Doc Fenton' or Dr. Fenton Thomas Adams MD of Latonia, Kentucky. He sold his tobacco crop and decided to use the money to enroll in medical school at the University of Louisville, Kentucky. In time, Fenton was barred from the hospital surgery due to drunkenness, and he then established a surgery in his home at the corner of 38th Street and Lincoln Avenue in Lationa. During the war, he gave every soldier who came to his office a silver dollar and charged nothing for the treatment. He supplied coal for the furnaces at the orphanage. Fenton was extremely blunt and often rude, but to this day he is held in high regard by those who remember him. Fenton is buried at Blackoak, Kentucky, in the family graveyard plot at the church.

In recent years, I called a repairman to my home. He asked if I were kin to Doc Fenton, and when I confirmed that I was, he refused to charge me for his service!

He is remembered also as the person who ran over the fountain in the center of the five-street confluence known as Ritte's Corner in Latonia. He ran over it once with his model T Ford and the town repaired and replaced it. Dr. Adams ran over it a second time, they repaired and repositioned it on the sidewalk. He ran up over the sidewalk and hit it a third time, whereupon they put it away in storage. In recent years, it has been restored to an area on the sidewalk at Ritte's Corner, and so far there have been no incidents (although I must confess to some temptation - in honor of 'Uncle Doc'). Ritte's Corner and the fountain are now on the National Historic Register.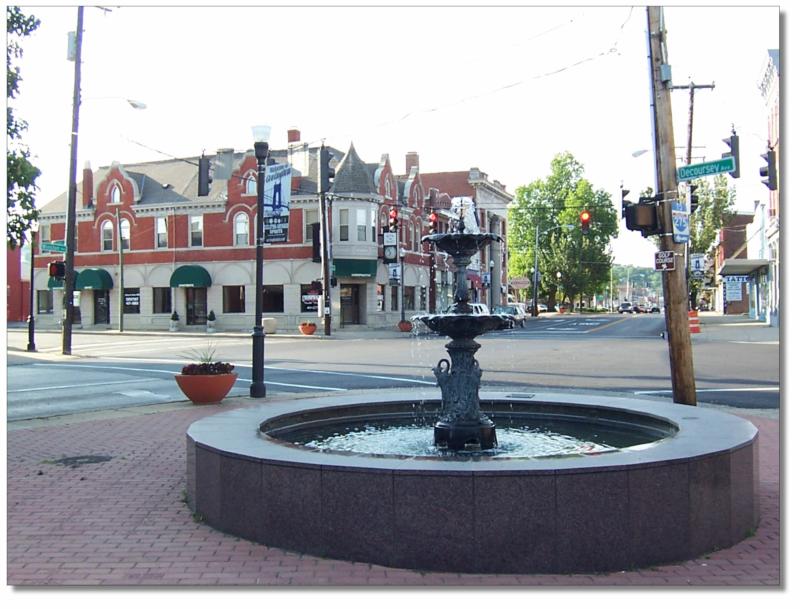 Note 14: Dr. Fenton Thomas Adams encouraged both of his nephews (my father and his brother, Julian, to study medicine: Julian became an MD and practiced medicine in Chattanooga, and my father practiced dentistry in Covington, Kentucky.