Shows for Seniors
September, 2019
After a recent show at a senior living center, two ladies came forward to greet me. One said, 'We think you're very good.' The other looked at her friend and said, 'Yes, that was better than a nap!' And then the first lady said, apologetically, 'That was a compliment.' 'I know,' I said, 'Thank you! And I'll quote you on my web site.'

Cliff entertains at these Senior Living Centers in the northern Kentucky/Cincinnati area:
Atria Senior Living, Highland
Bridgeway Pointe
Brookdale Edgewood
Colonial Heights
Deupree House Cottages
Dominion Senior Living, Florence
Elmcroft Senior Living
Emerald Trace, outing at Bike and Bean
Madonna Manor
Maple Knoll Village
Salem Woods
SEM Terrace, Milford
St. Charles Community
The Senior Star at Kenwood
Cliff's repertoire of over 500 songs includes familiar hits through the years, in a friendly, chatty presentation seniors (and caregivers) can enjoy.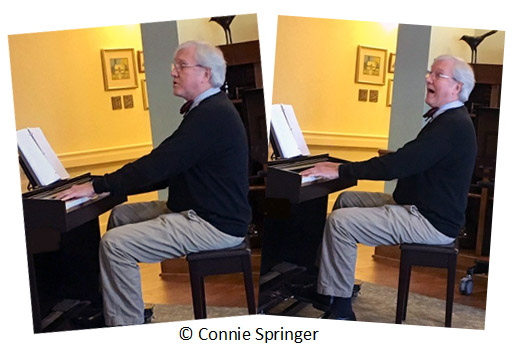 Cliff at Deupree Cottages, January 21, 2018. Thanks to Connie Springer for the photos.